I don't like to pay money for maternity clothes, so these shorts and top are from Old Navy
When I was pregnant the first time, I felt overwhelmed by maternity clothes shopping. I thought I'd need a whole new wardrobe. My first maternity shopping experience was at Destination Maternity and I was shocked at how expensive stuff was in general for crappy quality, cuts and colors. I don't hesitate for a moment to spend money on clothing that I'm really in love with, but not for maternity clothes that I'm going to wear for a year max.
Here are my six maternity clothing essentials for someone who's going to be big mostly during warmer months. I don't think I've ever paid over $30 for anything that was specifically maternity.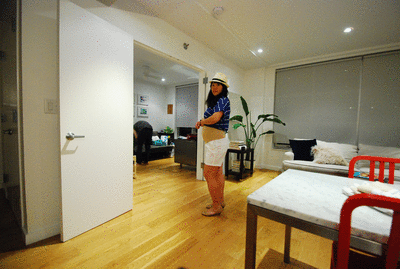 Gotta love the sexy maternity panels
Secret Fit leggings from Destination Maternity. I got these in black, navy and charcoal when I was pregnant with my first and I'm wearing the same ones again this second time around. The fabric could be thicker, but I live in them still. I wore them for six to eight months after I gave birth the first time, so it wasn't something that I just wore for a couple of months. Pants and leggings are really the main thing you need to get "maternity" stuff for, in my opinion.
Non-maternity tops and skirts from places like American Apparel, Forever 21, H&M, Top Shop and Old Navy. Besides pants and tank tops, I didn't find the need to hunt down (and pay a premium for) maternity tops. American Apparel, for instance, doesn't label any of their stuff "maternity," but if you keyword search maternity, you get a bunch of results. I comfortably wear their pencil skirts and their U-neck dress, among many of their other items, while pregnant.
A non-maternity top (actually, I think it's a dress) from Top Shop is my favorite "maternity" shirt




This signature shirt from Equipment in size Large has served me well at 25 weeks. It's not "maternity"
Another non-maternity shirt I love for maternity. Photo credit: 23-month old Greyson
Maternity tank tops. I like that maternity tanks are usually a lot longer (aka butt-covering) and have the shirring on the sides. The ones I'm wearing now (see below) are from Old Navy, which I bought in black, white and blue/white striped for $13 each. These tanks don't have the cutest cut, but they work for the gym and as a layer under cardigans.
Workout shorts. I like these a lot! (see above) You can wear them rolled up or down. I'll probably even wear these after pregnancy. Got them in black and light gray.
A pair of jeans or pants you can wear with everything. I wanted white jeans for this spring/summer, but I couldn't justify spending $200 on maternity jeans. I found some jeans on sale at Old Navy for $20. You sort of get what you pay for with these. They're a bit thin, the elastic cover of the maternity panel ripped almost right away and the panel also folds in half and I have to keep flipping it back up. I'm not eager to try Old Navy pants again, but I think it's a safer bet to go with their pants styles that cover the whole belly or go under the belly rather than the demi-panel. I find the over the belly styles the most comfortable, but it can get hot in the summer, too.
A pair of shorts you can dress up a little bit. Pants and leggings get hot, sometimes your pregnant legs stick together when wearing skirts and you can't always wear workout shorts. These shorts are a little on the mom shorts side, but when you wear a longer top, you don't see the mom-ness of the shorts, which is around the top of the shorts.